Increase productivity with the Loupedeck AI Assistant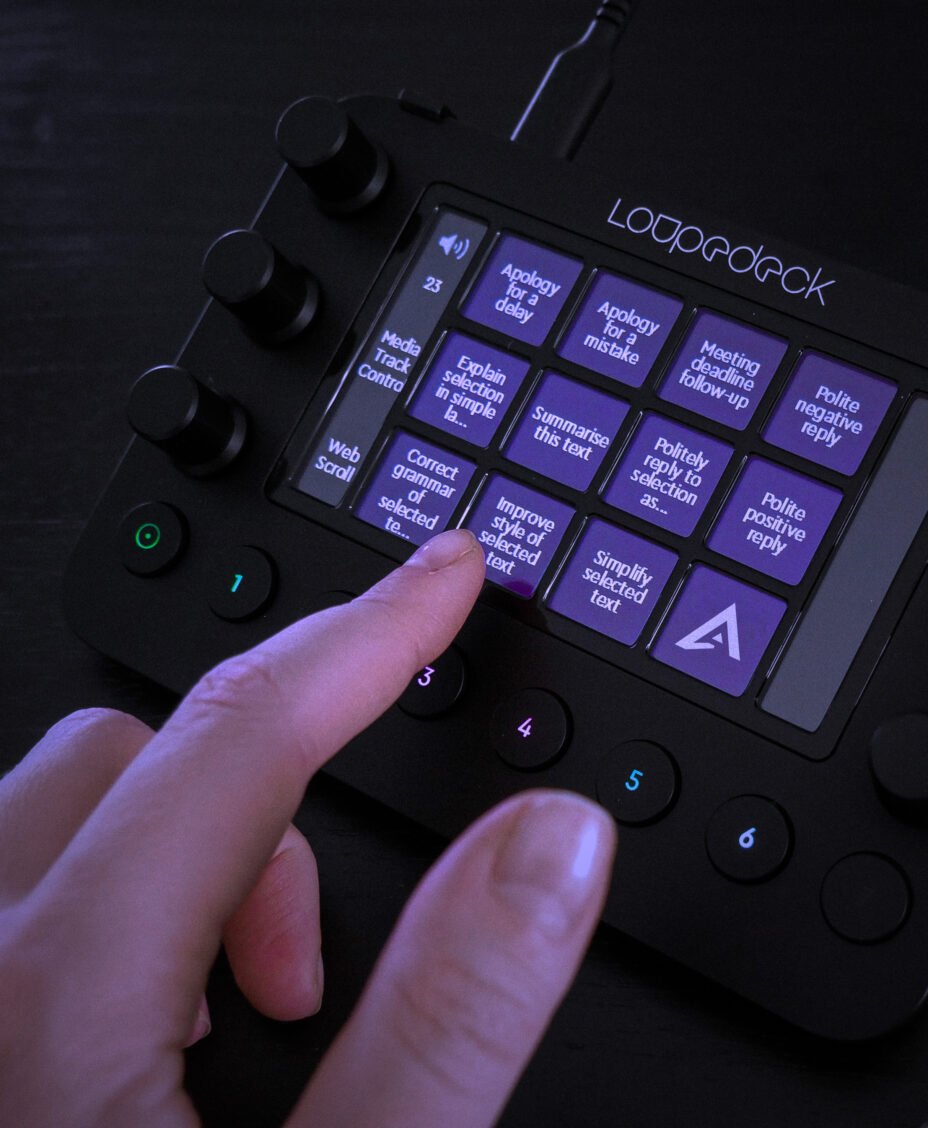 Discover how the Loupedeck AI assistant, powered by OpenAI, can transform your creative process by streamlining tasks, from ideation to editing, and social media management. Elevate your content and boost productivity effortlessly.
The life of a creator—endless brainstorming, hours of editing, and the relentless hustle to improve productivity and be the very best. Toss in a pinch of caffeine addiction with a dash of sleep deprivation, and you've got the full package. But what if there's a way to increase productivity, focus on your vision, and wow audiences without all the tedious steps in between? Enter the Loupedeck AI assistant; the perfect blend of tactile control and OpenAI, designed to streamline your creative process from ideation to creation.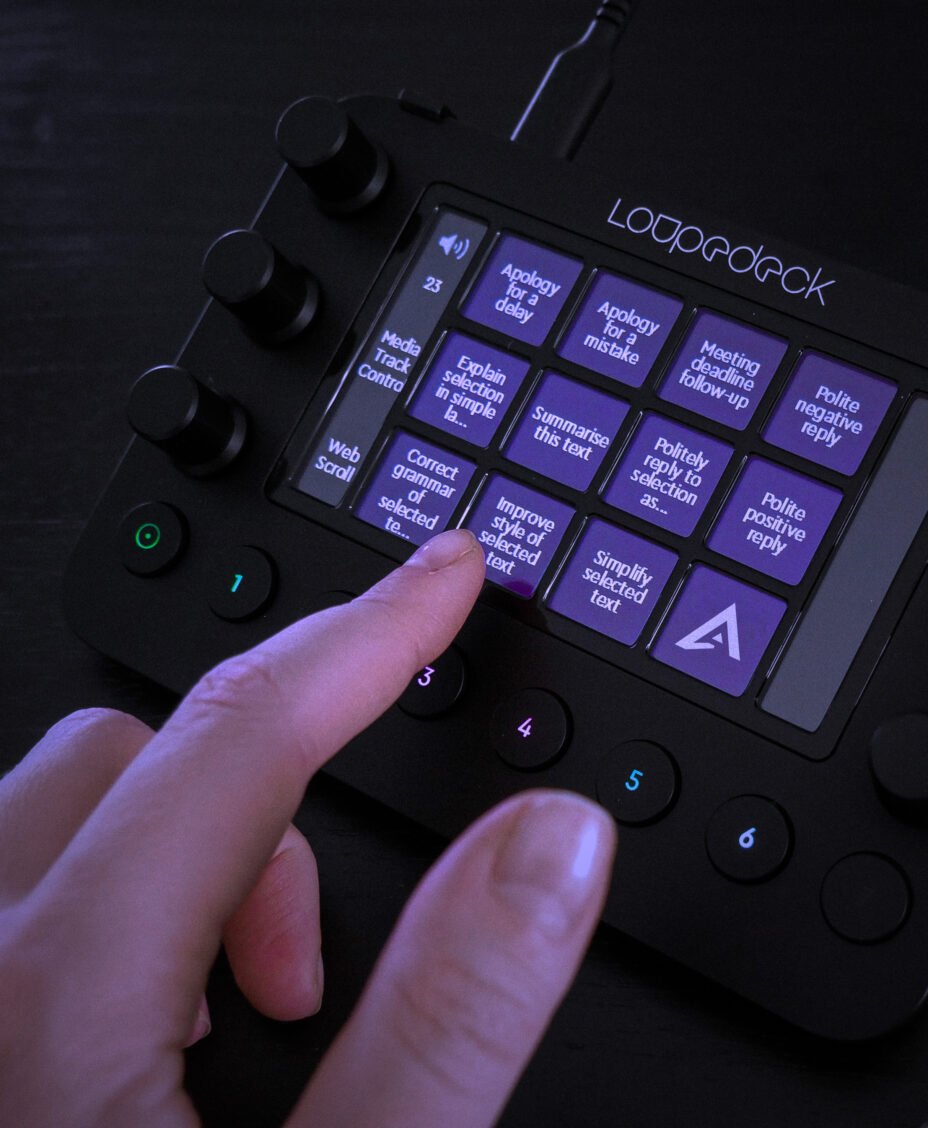 Loupedeck consoles by themselves, already make your creative process faster. They simplify everything from editing photos/videos, graphic design, content creation and streaming, by providing instant access to essential tools and functions. And you can also automate tedious editing tasks at the tap of a button using custom actions and macros. With the new Loupedeck AI plugin—available, free for a limited time, you can further streamline your workflow, from brainstorming, to managing emails and even creating social media posts.
3 ways to use the Loupedeck AI Assistant
Now we know, you've probably seen OpenAI making headlines and flooding your social media feeds with unusually well-written posts that are equal parts cheesy and cringey. Don't fear — we're here to show you how to use the Loupedeck AI Assistant in a way that doesn't make you cringe, but actually helps you to create better content and streamline your workflow.
Here are 3 ways Loupedeck AI assistant can help increase your productivity:
1. Content planning and brainstorming: Loupedeck AI is here to cure your creative block once and for all. Now at the touch of a button, Loupedeck AI can help brainstorm ideas for new content pieces like videos and blogs. Try prompts like "Generate 10 blog post ideas about productivity" or "Suggest five video concepts related to Premiere Pro." Watch the AI generate suggestions to inspire you, experiment with new creative angles, and improve your productivity.
2. Social Media Management: Having a robust social media presence is essential for content creators Loupedeck AI makes this easy. By generating post ideas, hashtags, and captions for each platform. To get started, use prompts such as "Generate a caption for an Instagram post" or "Suggest five hashtags for this Tweet." This not only saves your time but ensures you're able to post content consistently and effectively engage your audience. Plus, the AI stays updated on top trends, enabling you to increase your reach and stay on top.
3. General Productivity: Loupedeck AI Assistant optimizes your overall workflow. At the push of a button, it can help manage your emails by quickly drafting email responses, proofread written content, and summarize long articles. Try prompts like "Proofread this paragraph" or "Summarize this article in 150 words." With Loupedeck AI, you can focus on creativity while AI streamlines time-consuming tasks.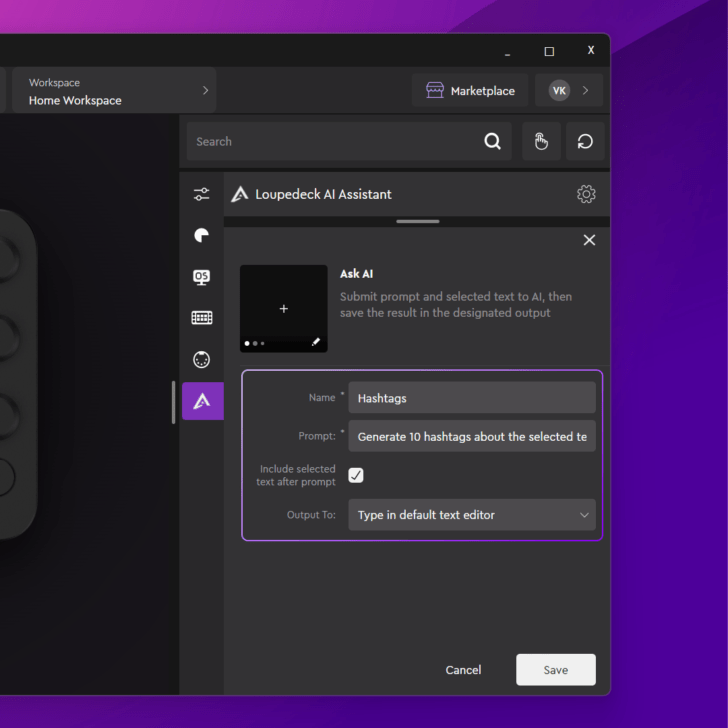 Get started with the Loupedeck AI Assistance
Discover the Loupedeck AI Assistant available in our latest software update 5.6.1. For seamless integration into your workflow, please see the Loupedeck AI Assistant setup guide, to learn how to get started.